By Tim Heden and Doug Mashek
Diet and exercise are generally regarded as the two most important factors – that we can somewhat control – influencing our health. Of the numerous diets or dietary patterns, the Mediterranean Diet is widely accepted to be the best at promoting optimal health. While many components of this diet likely contribute to these beneficial effects, the relatively high consumption of olive oil is likely a major factor. On the other hand, exercise in almost any form has wide ranging health benefits. Of the different exercise modalities, high intensity interval training (HIIT) has grown in popularity in recent years. HIIT entails cycles of intense exercise followed by recovery periods with each cycle only lasting a few minutes. This type of exercise is known to greatly enhance aerobic capacity (maximal exercise capacity), which improves performance during endurance sporting events and has long-term benefits on reducing metabolic and aging-related diseases.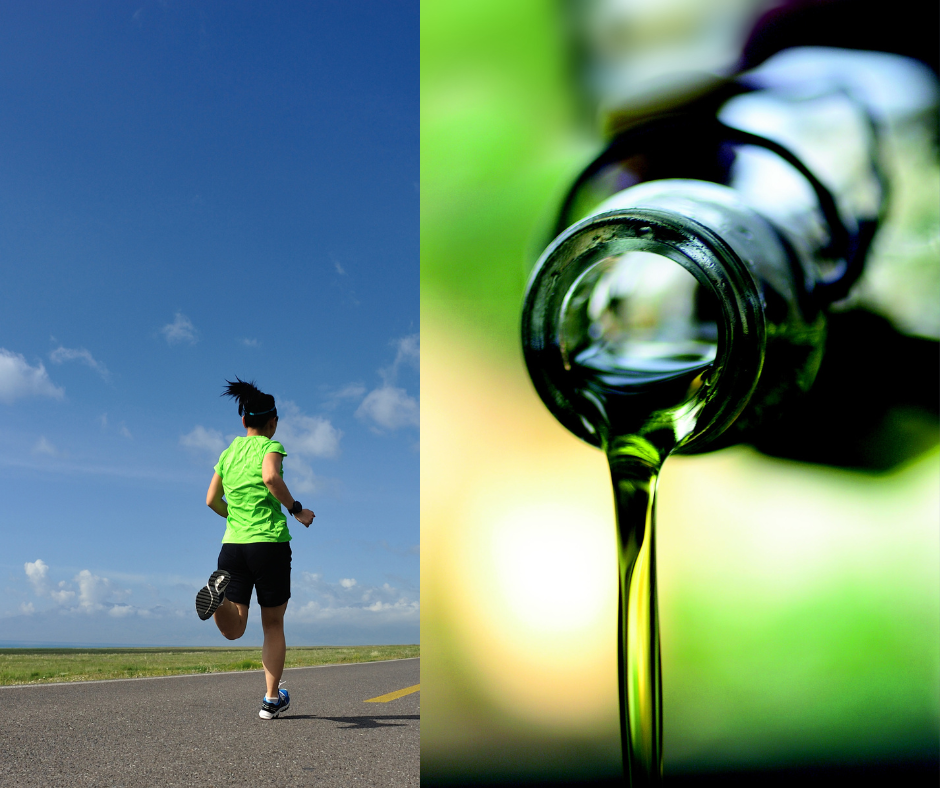 While many studies have focused on the individual effects of specific foods/diets or exercise regiments, few studies have directly compared the two or possible synergy between them. In a recent study, we tested the individual and combined effects olive oil supplementation or HIIT exercise in female mice. Mice were fed diets enriched in olive oil or lard/vegetable oil (control diet) and were either sedentary or exposed to HIIT training via treadmill running for 3 months. While neither the olive oil or HIIT had a major impact on body weight or body fat content, there were notable changes in metabolism in various tissues.  Mitochondria represent the major cite of generating energy and are crucial hubs for all things metabolism in most cells. Exercise is well known to increase the number of mitochondria in muscle and many tissues, which is a major driver of the increased exercise capacity people experience with repeated exercise (i.e., training). In agreement with this well-known phenomenon, HIIT training also increased the number and function of mitochondria in several tissues including liver, muscle, and heart. Surprisingly, we also found that olive oil supplementation alone (i.e., in the absence of exercise training) was able to increase mitochondrial content and function in several tissues. These results suggest that in some ways consuming olive oil could mimic the effects of exercise on impacting how our cells produce energy. Interestingly, while olive oil and exercise independently showed positive effects, combining the two together did not show enhanced effects suggesting that they may impact mitochondrial and metabolism through similar mechanisms.
This data should not be interpreted to mean that one can simply consume olive oil and never need to exercise again (a coach potatoe's dream!). Maintaining a routine exercise program has nearly countless benefits on improving nearly every facet of health. While HIIT may be one of the most impactful exercise modalities, exercise in any form can convey health benefits. Nonetheless, these data suggest is that olive oil consumption alone may impact our bodies in some ways similar to what exercise does. Thus, this work highlights the benefits of consuming olive oil and provides new clues into how this unique oil brings about its health benefits.
Timothy D. Heden, Ph.D.
Research Assistant Professor
Department of Biochemistry, Molecular Biology, and Biophysics
University of Minnesota
Cell Phone: (573) 777-0499
Email: theden@umn.edu
EDUCATION AND TRAINING
Years
Training and Institution
Field of Study
2017-2020

2014-2017

Postdoctoral Training – University of Minnesota

Postdoctoral Training – East Carolina University

Metabolism / Autophagy

Mitochondrial Bioenergetics

2009-2014
Ph.D. – University of Missouri, Columbia
Exercise Physiology
2007-2009
M.S. – Southern Illinois University Edwardsville
Exercise Physiology
B.A. – Southern Illinois University Edwardsville
Kinesiology
PROFESSIONAL POSITIONS
Years
Position
Institution
2021-Present

2020-2021

2017-2020

2014-2017

Research Assistant Professor

Research Associate

Postdoctoral Fellow

Postdoctoral Scholar

University of Minnesota

University of Minnesota

University of Minnesota

East Carolina University

2009-2014
Research and Teaching Assistant
University of Missouri
2007-2009
Graduate Teaching Assistant
Southern Illinois University Edwardsville
SELECT PEER-REVIEWED PUBLICATIONS
Heden TD, Chen C, Leland G, Mashek MM, Najt CP, Shang L, Chow LS, Mashek DG. Isolated and combined impact of dietary olive oil and exercise on markers of health and mitochondrial metabolism in female mice. Journal of Nutritional Biochemistry, Accepted March 2022.
Heden TD, Chow LS, Hughey CC, Mashek DG. Regulation and role of glycophagy in skeletal muscle energy metabolism. Autophagy, Accepted July 2021.
Seibert JT, Najt CP, Heden TD, Mashek DG, Chow LS. Muscle lipid droplets: Cellular signaling to exercise physiology and beyond. Trends Endocrinol Metab. 2020; 31(12): 928-938.
Najt CP, Khan SA, Heden TD, Witthuhn BA, Perez M, Mead LE, Franklin MP, Karanja KK, Mashek MT, Bernlohr DA, Parker L, Chow LS, Mashek DG. Lipid droplet-derived monounsaturated fatty acids traffic via PLIN5 to allosterically activate SIRT1. Mol Cell. 2020; 77(4):810-824.
Heden TD, Kanaley JA. Syncing exercise with meals and circadian clocks. Exerc Sport Sci Rev. 2019;47(1):22-28.
Heden TD, Liu Y, Kanaley JA. A comparison of adipose tissue interstitial glucose and venous blood glucose during postprandial resistance exercise in patients with type 2 diabetes. J Apply Physiol. 2018;124(4):1054-1061.
Douglas G. Mashek, PhD
Suite 6-155, 321 East Church St., Minneapolis, MN 55455
Ph: 612-626-2904 Email: dmashek@umn.edu
http://masheklab.umn.edu/
EDUCATION
1999-2003 Ph.D., University of Wisconsin-Madison
1996-1999 M.S., Michigan State University
1991-1996 B.S., Iowa State University
PROFESSIONAL EXPERIENCE AND EDUCATION
2019- Professor, Department Biochemistry, Molecular Biology and Biophysics and
Department of Medicine, Division of Diabetes, Endocrinology and Metabolism,
University of Minnesota
2012- Associate Professor, Department Biochemistry, Molecular Biology and
Biophysics and Department of Medicine, Division of Diabetes, Endocrinology and
Metabolism, University of Minnesota
2006-2012 Assistant Professor, Department of Food Science and Nutrition, University of
Minnesota, St. Paul, MN
2003-2006 Postdoctoral Research Fellow, Department of Nutrition, University of North Carolina,
Chapel Hill, NC
RESEARCH INTERESTS
The focus of our research laboratory is on fatty acid trafficking and signaling with an emphasis on lipid
droplet biology. Specifically, we are attempting to define how diet and alterations in lipid metabolism in
general or specific changes in lipid droplet biology influence the development and progression of
metabolic diseases such as Type 2 Diabetes, non-alcoholic fatty liver disease and cancer as well as
aging/lifespan regulation. A major emphasis is placed upon understanding the regulation of lipid droplet
catabolism and how lipid droplet communicate within cells to influence signaling pathways and disease
development. We employ a wide range of molecular and biochemical techniques and models (proteins,
cells, rodents and humans) to accomplish our research objectives.
PUBLICATIONS
https://www.ncbi.nlm.nih.gov/myncbi/browse/collection/42166533/?sort=date&direction=ascending
Selected papers:
1. Cui W, Sathyanarayan A, Lopresti M, Aghajan M, Chen D, Mashek DG. Lipophagy-derived fatty
acids undergo extracellular efflux via lysosomal exocytosis. Autophagy 2021;17(3):690-705.
2. Najt CP, Khan SA, Heden TD, Witthuhn BA, Perez M, Mead LE, Franklin MP, Karanja KK, Graham
MJ, Mashek MT, Bernlohr DA, Parker L, Chow LS, Mashek DG. Lipid droplet-derived
monounsaturated fatty acids traffic via PLIN5 to allosterically activate SIRT1. Molecular Cell
2020;77(4):810-824.
3. Sathyanarayan S, Mashek MT, Mashek DG. ATGL promotes autophagy/lipophagy via SIRT1 to
control hepatic lipid droplet catabolism. Cell Reports 2017;19(1):1-9.
4. Khan SA, Sathyanarayan A, Mashek MT, Ong KT, Wollaston-Hayden EE, Mashek DG. ATGLcatalyzed
lipolysis regulates SIRT1 to control PGC-1a/PPAR-a signaling. Diabetes 2015;64(2):418-
426.
5. Ong KT, Mashek MT, Bu SY, Greenberg AS, Mashek DG. ATGL is a major hepatic lipase that
regulates TAG turnover and fatty acid signaling and partitioning. Hepatology 2011;53(1):116-126.
AWARDS (recent)
2016 American Society for Nutrition E.L.R. Stokstad Award for outstanding
fundamental research in nutrition
2015 College of Food, Agriculture and Natural Resource Sciences Undergraduate
Teaching Award
2012 Novo Nordisk Diabetes Innovation Award
2006 American Diabetes Association Junior Faculty Award