By Vanda Pereira
Despite Madeira wine being produced more than 500 years ago and being a wine, which history is as rich as its complexity, there is still much to reveal, at least from a point of view of a scientist who has been studying this product and its process for more than 12 years. The more I know, the more I want to know …
This fortified wine (17-22% ABV) is produced in Madeira, which is a Portuguese island near the coast of Morocco and holds a complex bouquet, with distinctive aromas of oxidation and aging, and a characteristic freshness due to its surprising acidity derived from the volcanic soils. It is produced from red (Tinta Negra) and white (Sercial, Verdelho, Boal, and Malvasia) grapes, from vines planted in small terraces and manually cultivated on the steep slopes of Madeira Island.
The main Madeira winemaking singularity is the inclusion of a baking step (thermal processing at about 45 °C for at least 3 months) to accelerate its aging, the estufagem. This procedure is usually performed to a young wine, which alcoholic fermentation was halted by the addition of neutral grape spirit (96% ABV) when the desired sweetness was attained, to obtain dry, medium-dry, medium-sweet, and sweet wines.
My research has been essentially focused on the study of this fortified wine, namely on the aging process, especially on the estufagem process (accelerated aging). The chemical characterization and the use of that information for wine process control has been the target of the research that I have been developing.
Furans, such as furfural and 5-hydroxymethylfurfural (HMF), which have been attracting increasing attention recently, naturally occur in Madeira wines. My research has shown that their formation in Madeira wines is extremely dependent on the heating temperature (especially above 50 °C) and sugar content. Therefore, the conditions of estufagem should be adjusted to control the final content of furans, without compromising the general quality of the resulting wine, namely through the accurate control of the temperature.
Different heating temperatures can also be considered according to the wine sweetness degree. The studies also indicated that estufagem can be applied without having a great impact on polyphenols and antioxidant potential of these fortified wines. Also, it was showed that young Madeira wines tend to similar chromatic characteristics after being submitted to estufagem regardless of whether the wine is made from red or white grapes.
Indeed, estufagem increases the color evolution of Madeira wines comparatively to canteiro aging (natural oxidative aging in oak casks for long periods). Estufagem also promotes the amino acid transformation into new aging products. On the other hand, it was found that acetic acid and ethyl acetate (volatile acidity main contributors) increase during the aging process, greatly depending on the sweetness degree, and estufagem does not seem to have a greater contribution to it. It was also found that olfactory perception of these substances in Madeira wines depends on their age and sweetness degree. Furthermore, under the project IMPACT II, it was possible to validate, using physicochemical data, quality information and chemometric approaches, a procedure to monitor the wine aging process towards the desired characteristics. This study also revealed the benefits of applying estufagem to Madeira wines.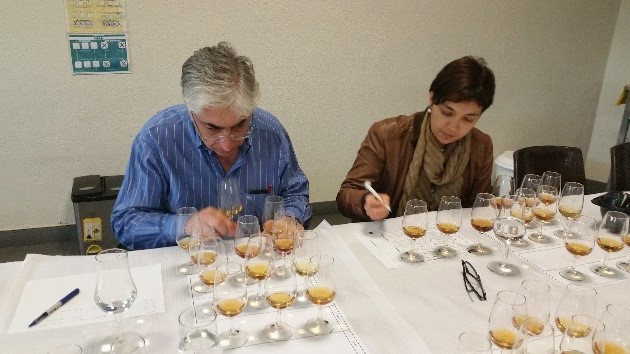 Several research lines are now being followed to study Madeira wine, namely:
(1) Mitigation strategies for ethyl carbamate. In this context, two analytical methods have been proposed: using GC-MS and LC-MS;
(2) Monitoring and enhancing strategies for the development of key aromas. The contribution of the fructose and glucose's degradation for the Madeira wine's features has also been published. This study showed that the thermal degradation of sugars develops several aroma compounds that occur in Madeira wine aroma. Moreover, interestingly, it was revealed, for the first time, that the origin of sotolon in sweet wine can be associated with the acid-catalyzed degradation mechanism of sugars. Sotolon is recognized as a key aroma compound of the finest Madeira's. Indeed, estufagem process promotes the formation of sotolon. Moreover, estufagem combined with micro-oxygenation can also be a feasible procedure for the Madeira wine's accelerated aging. To continue studying this topic, I and my colleagues from I3N-Aveiro/UMa have recently seen approved a research project called AROMA, in which, it is intended to develop new optical fiber sensor designs for aroma compounds detection.
I conclude by saying that I hope that the work I have been developing will be useful not only for the local sector but also for all those who share the love for Science & Wine.
Vanda Pereira is graduated in Chemistry (2005) and has a Ph.D. degree in Analytical Chemistry (2011) by the University of Madeira (UMa), Funchal. Her Ph.D. project involved the use of analytical chemistry approaches to enology. Her first Postdoctoral fellowship was accomplished under the project IMPACT II – Impact of Production Technologies on the Quality of Madeira Wine, resulting from the continuation of the previous partnership of the 1st IMPACT, between UMa and Madeira Wine Company, S.A. (MWC).
She is now continuing her research under an individual Postdoctoral fellowship, funded by the Regional Agency for Research, Technology, and Innovation Development (ARDITI). Currently, she is a member of the Institute of Nanostructures, Nanomodelling, and Nanofabrication (I3N). She has been involved in 5 multidisciplinary projects other than IMPACT II, namely ESTUFA, which involved the application of optical fibers sensors to wine quality control. Her skills are essentially related to chromatography (LC-MS and GC-MS) and spectroscopy (UV-Vis-NIR). Up to date, V. Pereira has published 18 papers and 1 book chapter and has participated in 59 (9 orals and 50 posters) conference presentations, with 1 awarded poster with the best prize (2011). Since her graduation, V. Pereira completed the supervision of 3 MSc students and is now supervising 2 MSc students and 2 PhD students.