By Labros S. Sidossis, Alexandra Foscolou
The Mediterranean diet was first defined by Ancel Keys in Greece and Southern Italy during the 1960s as being low in saturated fat and high in vegetable oils.
The various eating habits that occur in the Mediterranean region have many common features; the use of olive is probably the most important. The depiction of this pattern has been done through the well-known Mediterranean pyramid. From time to time pyramids have appeared with a number of variations – with the main difference being the integration of socialization and physical activity at its base. A common, unchanging component, however, has always been the daily consumption of olive oil.
Approximately 70% of olive oil production is produced in Mediterranean countries, including Spain, Turkey, Greece, Italy, Morocco, and Tunisia. However, olive oil is also produced in other regions of the world, including Australia and the USA. There are several olive oil subtypes (i.e. extra virgin olive oil, virgin olive oil, refined olive oil, and pomace oil) which exhibit differential potential impacts upon human health.
Olive oil is a dietary component that has been studied in depth in relation to cardiovascular disease and related biomarkers. According to USDA (United States Department of Agriculture), one tablespoon of olive oil contains 119 kcal, 13.5 g of fat, 10 g monounsaturated fat, 0 g of carbohydrates, fibers and proteins, 1.9 mg of vitamin E and 8.1 μg of vitamin K. Nutritional attributes also vary depending on the subtypes of olive oil. The beneficial effects of olive oil are mainly due to the high content of MUFAs (less sensitive to oxidation than other types of fatty acids), but also to other by-products with important biological properties such as phenolic compounds, vitamin E and other lipids such as squalene and tocopherols, especially in extra virgin olive oils. Additional evidence suggests that olive oil has anti-inflammatory and anti-atherogenic effects and may also play a beneficial role in reducing oxidative stress and improving endothelial function. In addition, it has been observed that extra virgin olive oil, especially in the Mediterranean diet, improves the lipid profile, insulin sensitivity, helps in better glycemic control and lower blood pressure.
Life expectancy has increased significantly in the last decades, resulting in a rapid increase in elderly population. Hense, healthy aging is an issue that concern all of us and pose a great challenge for the scientific community. The factors that contribute to human longevity and healthy aging are many and the questions that arise even more so.
Results from the epidemiological studies ATTICA and MEDIS hilight the benefits of olive oil consumption in human health and healthy aging. Eventhough the relationship between olive oil consumption and health has been studied since ancient times, the relationship between olive oil consumption and healthy aging is not fully clarified. The concept of healthy aging has internal complexities that need to be clarified. Healthy aging, a term alternatively used for "active aging" or "successful" or "positive" or "productive" is not a single phenomenon but the result of a combination of increased life expectancy and reduced risk of disease and disability, as well as high levels of physical and mental function and active participation in life. Healthy aging, according to the W.H.O., has a more holistic meaning based on the course of life and functional perspectives. That is, healthy aging is a process of developing and maintaining functional capacity that promotes the well-being of the elderly; alternatively, it is the process of optimizing opportunities for health, for participation, for safety, in order to improve the quality of life as people get older.
The results of the ATTICA and MEDIS studies first showed that people who use olive oil as the sole type of oil in their diet were more likely to be physically active, have a higher adherence to the Mediterranean diet and less likely to have hypertension, compared to people who did not consume olive oil in their daily diet or consumed other forms of fat. In addition, it was found that people over the age of 70 who consumed only olive oil as culinary fat had higher healthy aging score compared to those who did not consume any olive oil or consumed other forms of fat. The healthy aging score was evaluated through an index of ten characteristics (psychological, nutritional, lifestyle, clinical). A higher score on this indicator denotes healthy aging, while a lower score denotes unhealthy aging. Finally, the exclusive use of olive oil in the diet versus the exclusion of olive oil from the diet was significantly associated with the level of healthy aging. This could be explained by the fact that monounsaturated fatty acids found in abundance in olive oil are associated with longevity as well as with the reduction of diseases associated with aging, such as mental retardation. Another explanation for this positive correlation between olive oil – longevity and healthy aging can be the organoleptic properties of olive oil, which facilitate the increase in the intake of vegetables, i.e., foods that are beneficial to human health. However, an important question is whether olive oil acts alone or as part of the Mediterranean diet and a wider healthy lifestyle to offer the maximum to human health. It appears that the health benefits of exclusive consumption of olive oil as a form of fat, are similar to the health benefits arising from the adoption of a health-promoting lifestyle based on the principles of the Mediterranean diet.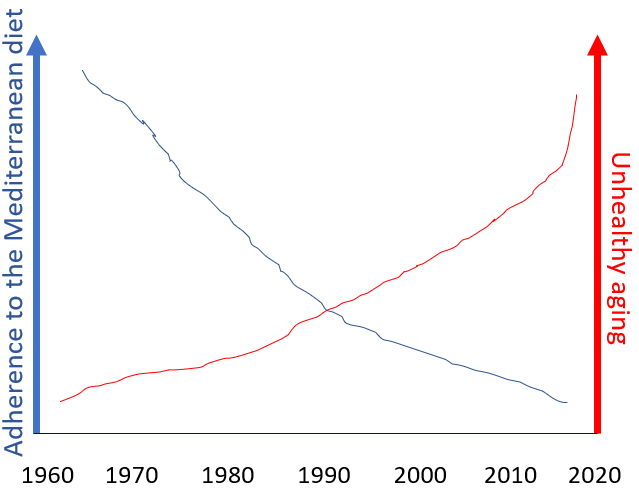 In conclusion, although increasing life expectancy and healthy aging are multifactorial concepts, the adoption of the Mediterranean lifestyle, which includes the daily consumption of olive oil is a key factor for the promotion of good health and well-being.
Labros S. Sidossis, PhD, FToS is a Distinguished Professor and Chair of the Department of Kinesiology and Health and Professor of Medicine at the Robert Wood Johnson Medical School at Rutgers University, New Jersey, USA. He is also Professor of Nutrition and Dietetics at Harokopio University, Athens Greece. He has a BS in Exercise Sciences, an MS in Exercise Physiology, MA in Exercise Biochemistry and Nutrition, and a PhD in Nutrition – Metabolic Biochemistry from the University of Texas Medical Branch at Galveston. Dr. Sidossis' research over the past 30 years has focused on the role of lifestyle factors (nutrition and exercise) in the development of healthy humans and the improvement of athletic performance. Specifically he has investigated the effects of nutrition and physical activity on the prevention and treatment of various diseases, including obesity, insulin resistance and dyslipidemias. His studies have been funded by the National Institutes of Health (USA), the American Diabetes Association, the Shriners Hospitals for Children, the European Union, and the industry. His 200+ papers in peer-reviewed journals have been cited > 13000 times; h­-index: 57; i10-index: 144.
Alexandra Foscolou was born in Athens in 1989 and she is a clinical dietitian-nutritionist. She received her BSc from the Department of Nutrition and Dietetics, Harokopio University of Athens, Greece and her MSc in Applied Dietetics and Nutrition (Discipline: Nutrition & Public Health), Harokopio University. In 2020 she completed her Ph.D (Topic: Investigation of the factors associated with the successful aging of the Greek population: epidemiological study). From 2018 until today shehas attended online training courses from John Hopkins University in Epidemiology in Public Health Practice, from Utrecht University in Clinical Epidemiology, from Columbia University in Causal Inference, from the University of Melbourne in Rethinking Ageing and from the Imperial College of London in Epidemiological Assessment of the Disease and has received the corresponding certificates. From 2012 to 2019 she was a researcher in the epidemiological study MEDIS (MEDiterranean Islands Study). To date, she has prepared and published over 20 articles in reputable international scientific journals and 1 chapter in a book concerning the 3rd age. She has participated with over 30 announcements in Greek and international conferences, while she is a member of the Hellenic Atherosclerosis Society. Alexandra Foscolou participated in the ATHLOS research program from 2018 to 2019, contributing to the homogenization of dietary variables and the writing of research articles.
References
Foscolou, A., Critselis, E., & Panagiotakos, D. (2018). Olive oil consumption and human health: A narrative review. Maturitas, 118, 60–66.
Foscolou, A., Critselis, E., Tyrovolas, S., Chrysohoou, C., Sidossis, L. S., Naumovski, N., Matalas, A. L., Rallidis, L., Polychronopoulos, E., Ayuso-Mateos, J. L., Haro, J. M., & Panagiotakos, D. (2019). The Effect of Exclusive Olive Oil Consumption on Successful Aging: A Combined Analysis of the ATTICA and MEDIS Epidemiological Studies. Foods (Basel, Switzerland), 8(1), 25.
Rudnicka, E., Napierała, P., Podfigurna, A., Męczekalski, B., Smolarczyk, R., & Grymowicz, M. (2020). The World Health Organization (WHO) approach to healthy ageing. Maturitas, 139, 6–11.
Fernández del Río, L., Gutiérrez-Casado, E., Varela-López, A., & Villalba, J. M. (2016). Olive Oil and the Hallmarks of Aging. Molecules (Basel, Switzerland), 21(2), 163.
Yubero-Serrano, E. M., Lopez-Moreno, J., Gomez-Delgado, F., & Lopez-Miranda, J. (2019). Extra virgin olive oil: More than a healthy fat. European journal of clinical nutrition, 72(Suppl 1), 8–17.