By Sara Canas
The ageing is a pivotal stage in the wine spirit's production process, comprising several puzzling and interacting phenomena responsible for the changes on the beverage's physicochemical characteristics, sensory fullness and high-quality plateau reached. These changes are closely related to the action of factors ruling the ageing process such as the ageing technology and the kind of wood used.
The ageing of wine spirit is traditionally performed in wooden barrels. Despite the high quality achieved, as a result of this technology's optimisation through scientific research, it is a time-consuming and costly process, and the capital invested in wine spirit and wood is immobilised for several years. There is also loss of wine spirit by evaporation, and it involves the use of a large amount of a natural resource, the wood, whose availability is limited.
For these reasons, alternatives have been searched towards ageing sustainability, that is, an environmentally-friendly ageing process together with other economic and social benefits. Besides, diversification of agri-food products, including the wine spirit, is becoming increasingly important in the face of a global and more competitive market with more informed and demanding consumers. For sustainability and diversification to be successful, it is imperative to find innovative technologies.
In this context, three research projects were performed, giving promising results. From the last one (CENTRO-04-3928-FEDER-000001), the first scientific article was recently published in LWT – Food Science and Technology (2019, vol. 111, p. 260-269). The article is focused on the study of some features positively correlated with the aged wine spirit's quality – total phenolic content, low molecular weight phenolic compounds contents and chromatic characteristics – acquired over the first six months of ageing through a new technology (micro-oxygenation combined with wood staves in 1000 L stainless steel tanks) and through the traditional one (250 L wooden barrels), using two different kinds of wood (Limousin oak and chestnut). The main outcomes evidence the strong influence of the ageing technology on such characteristics. Specifically, in this early phase of ageing, micro-oxygenation combined with staves showed better performance than the wooden barrels, allowing greater enrichment of the wine spirit in wood-derived phenolic compounds. Faster evolution of the chromatic characteristics (lower lightness, higher saturation and higher intensities of red, yellow and brown hues) was also observed in the wine spirits aged by this alternative technology. Such positive effects were more obvious in the essay's modality involving the chestnut wood (Figure 1).
To learn more about this work: https://doi.org/10.1016/j.lwt.2019.05.018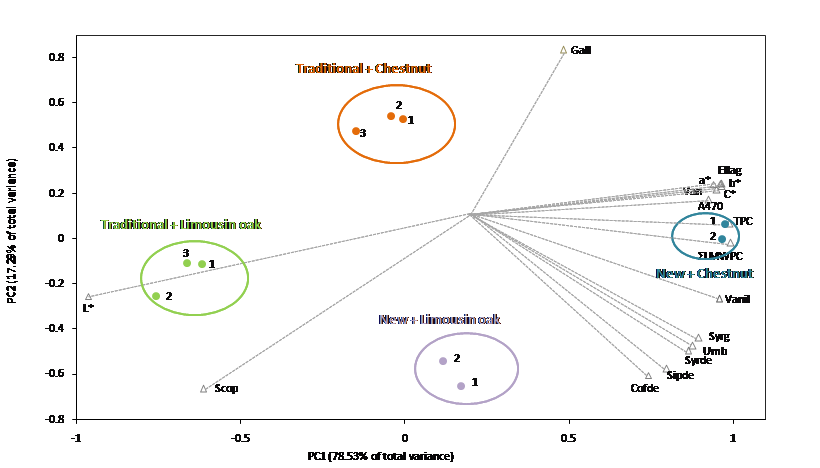 Sara Canas
Researcher with Habilitation at National Institute for Agrarian and Veterinary Research (INIAV). Head of the Enology Laboratory.
Eligible Member of the Institute of Mediterranean Agricultural and Environmental Sciences (ICAAM)/University of Évora.
Habilitation in Food Engineering (2017), PhD in Food Engineering (2003), M.Sc. in Viticulture and Enology (1997), B.S. in Agronomy (1990) – University of Lisbon/Instituto Superior de Agronomia.
Since 2000, extensive work on the ageing of wine spirits, cooperage technology, wood used in Enology, phenolic composition, antioxidant activity, HPLC, development and validation of analytical methods, sensory analysis of wine spirits.
Leader of 4 research projects; Team member of 14 research projects; Supervisor of master's thesis, graduate's thesis and professional training (26); Lecturer of the Master in Viticulture and Enology Engineering – University of Lisbon/University of Porto; Lecturer of the Master in Viticulture and Enology – University of Évora; Lecturer of Food Engineering courses; Lecturer of several training courses; Lecturer of several conferences; Author/co-author of 4 books, 7 book chapters, 38 articles in international scientific journals, 8 articles in technical journals, and 52 communications in scientific meetings; Associate Editor of the scientific journal Ciência e Técnica Vitivinícola; Member of the Editorial Board of the Journal of Polyphenols, International Journal of Foods and Biosystems Engineering, and Wine Studies; Peer-reviewing for 18 international scientific journals; Member of Enology Experts Group and of the Economy and Law Experts Group of the Portuguese Comission of International Organisation of Vine and Wine (OIV).